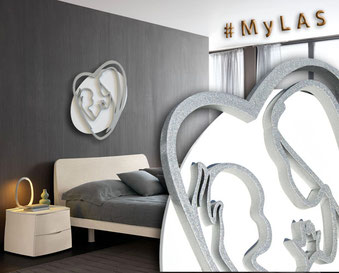 "You use a glass mirror to see your face; you use works of art to see your soul."
(George Bernard Shaw)
Ufficio stampa
tel. +39 346-1420575

The partnership between
L:A:S Laser Art Style and Viadurini 
The charming medieval town of Macerata is where you will find L:A:S, the brilliant result of the creativity of a young and innovative team. 
L:A:S is the Italian company that offers fascinating and original solutions for the home decor, expressing taste and personality at the same time and transforming classic art in a very special and modern way. L:A:S is specialized in the creation of stylized crucifixes, pictures, furnishings, wall vases, mirrors and wall clocks. A touch of actuality in order to decorate your home and bedroom with the most refined furniture.
Thanks to the new partnership betweeen L:A:S - acronym for Laser Art Style - and the Italian e-commerce Viadurini, the precious Italian Holy Art is now available all over the world.
Each item is handcrafted and 100% Made in Italy, and this is L:A:S' strong point. 
With great pleasure www.viadurini.co.uk sells abroad its products in many different countries, like Germany, Poland, England, Spain, Belgium, France, Switzerland, Austria and in the US. At the moment, Viadurini counts 16 websites, all translated by native speakers, and offers more than 20,000 products designed for both indoor and outdoor spaces.